I've just entered my 8th year in business! Wow. After all this time being a SaaS copywriter, I've encountered probably hundreds of SaaS marketing platforms. I've used my clients' software for research and getting screenshots. I've implemented some marketing campaigns myself, and I've managed other collaborators.
To help you know what's hot in SaaS marketing, I've decided to write a round-up of my favorite tools.
These tools are designed for startups and scaleups. (To learn what platforms I use in my copywriting business, check out this list of apps.)
There are so many SaaS marketing platforms on the market, but I've chosen these specifically because they pack a lot of essential features in one place, allowing you to consolidate your tech stack and workflows.
Keep reading to discover my absolute favorites. (Side note, StoryChief, Drift, and Airmeet are all clients of mine, but I'm recommending them because they're awesome. 😊)
1. StoryChief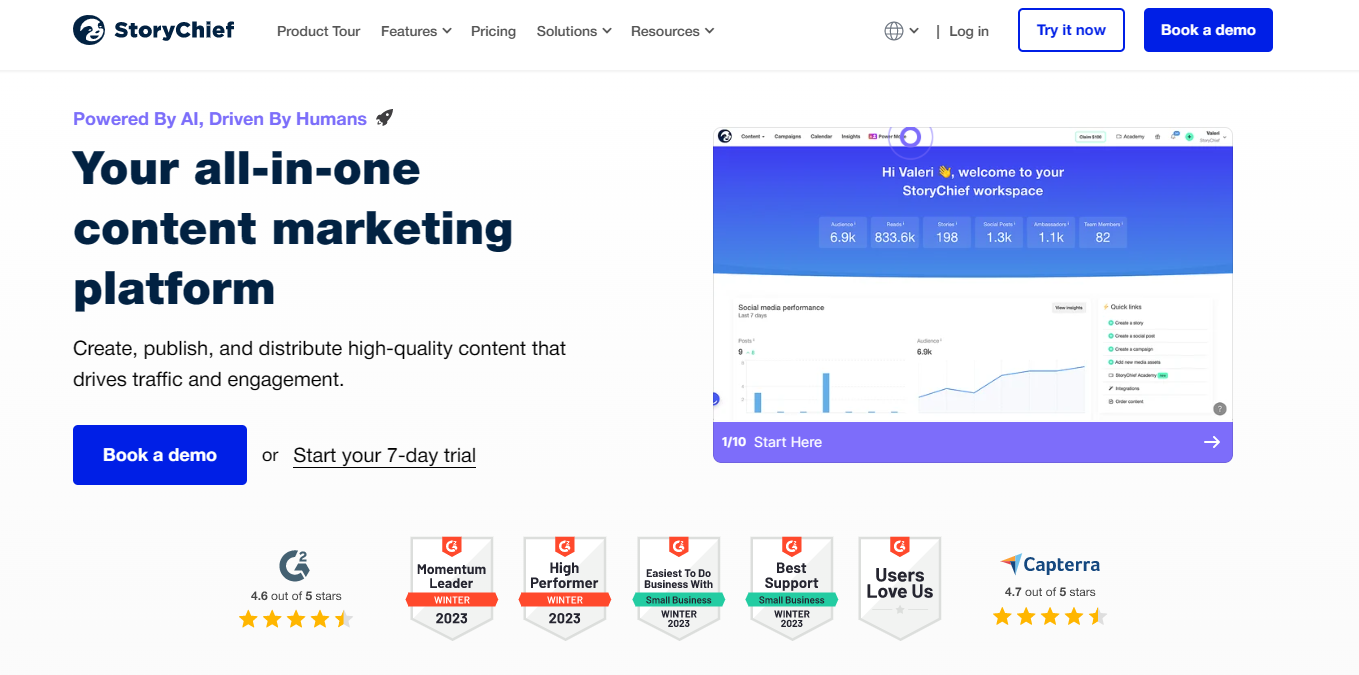 StoryChief will not only help you manage all your content in one place, but it'll also give you a helping hand with briefing, reviewing, SEO optimization, social media sharing, and even translation. You can create and manage all your articles, blog posts, and social media content from one spot, and even collaborate with your team in real-time. No more copying and pasting content from Google docs in a million different platforms.
2. Klaviyo

Email is one of the top B2B SaaS marketing strategies. But many small SaaS companies are struggling with enterprise platforms that are too robust for their needs. Klaviyo, though designed for ecommerce companies, is actually great for self-serve SaaS companies, because Klaviyo was designed for selling product subscriptions, not just one-off purchases. With Klaviyo, you can create targeted email campaigns that speak directly to your users' interests and preferences. You can segment your audience based on their purchase history, behavior on your website, and even demographics, so you can send them personalized messages that are more likely to convert.
Klaviyo also lets you create automated email flows that will nurture your leads and guide them through the buying process. You can set up welcome series and post-purchase follow-ups that will improve retention.
3. Airmeet

Airmeet is an event management platform that has taken virtual events to a whole new level. It's easy for organizers to create engaging and interactive events that attendees will love.
One of the standout features of Airmeet is its Fluid Spaces. These virtual spaces allow attendees to interact with each other in a relaxed and informal setting, just like they would at an in-person event. Attendees can connect with each other, share ideas, and make new connections, all from the comfort of their own homes.
And during sessions, attendees can use emoji reactions and chat replies to engage with each other and show their appreciation for the content being presented. This adds an extra layer of interaction and makes attendees feel like they're part of a community.
4. Drift

Overall, Drift is a powerful conversational marketing platform for engaging with website visitors and turning them into customers. One of the standout features of Drift is its ability to alert salespeople when their contacts are on the website. This means that sales reps can engage with prospects in real-time, answering their questions and providing the support they need to make a purchase. This feature can be especially useful for businesses that rely on a high-touch sales process. Plus with Fastlane, qualified leads can book a call directly with sales from the chat bot, allowing them fast-track access and getting deals closed faster and more efficiently.
Drift also lets you create AI sequences to meet different users' needs. You can customize your chatbot's responses based on a user's behavior, preferences, and prior website activity. This can help you deliver a more personalized experience that resonates with your target audience.
But as a marketer, my favorite capability is how Drift lets you distribute quality content with your chatbot. Use your chatbot to share relevant blog posts, ebooks, and other resources with the right website visitors. This can help you establish your brand as a thought leader and automate the lead-nurturing process.
5. Marketo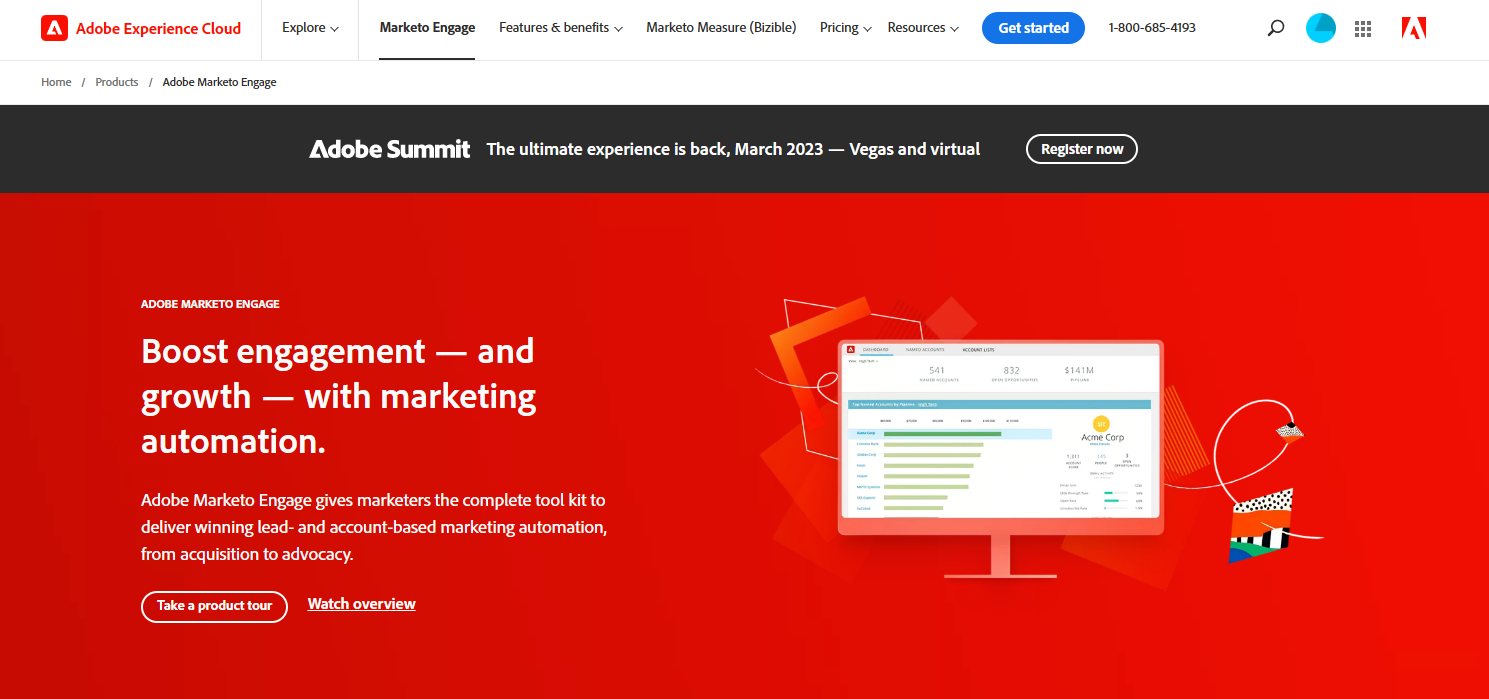 Marketo isn't an easy tool to use, but it's still best-in-class for large SaaS companies with dedicated marketing operations managers on staff.
And that's for 4 key reasons:
Integration: Marketo integrates with a wide range of tools and platforms, including Salesforce, Slack, and Google Analytics. This makes it easy to connect Marketo with your existing systems and workflows, so you can streamline your marketing processes and get more done in less time.
Lead management: With Marketo, you can track leads throughout the entire sales funnel, from initial contact to closed deal. You can also segment your leads based on their behavior and preferences, allowing you to deliver more targeted and personalized messages.
Personalization: Marketo allows you to create highly personalized experiences for your customers and prospects. You can use dynamic content and personalized messaging to engage with your audience in a more meaningful way, which can lead to higher conversion rates and increased customer loyalty.
Analytics: Marketo offers powerful analytics and reporting tools that allow you to track the success of your marketing campaigns in real time. You can measure the impact of your marketing efforts on revenue, lead generation, and customer retention, giving you valuable insights into what's working and what's not.
However, if you have a very small team that is struggling to get campaigns in action, you'll do better with Klaviyo or another simple marketing automation tool designed for non-technical marketers.
Looking for a writer who gets SaaS? Learn more about my services.