The other day I was thinking to myself…as a small business owner, what types of SaaS apps do I actually use? What do I actually pay for with my own money?
I can remember the early days of freelancing, when I was terrifed to have any sort of expense. But at this point in my business, I pay for quite a lot. I pay for health insurance, retirement, book keeping.
Oh wait, we're here to talk about SaaS.
I took a look at my Quickbooks account and my recent credit card statements and came up with a list of SaaS apps that I actually use and pay for. I wasn't trying to come up with a cool listacle number like 21. Lucky for me, it just turned out that way.
In our personal lives, most of us could do with shopping less, but in business, software purchases can save you money, and money equals time.
Side note, some of these are affiliate links. 🙂
Marketing SaaS apps
In the marketing apps category, I'm taking a look at apps that I use to market my own business and those I use to execute on marketing campaigns for my B2B SaaS clients.
1. StoryChief
For content production and promotion
I use StoryChief for several of my clients (I even use StoryChief for StoryChief 😉). So what the heck is it? It's a content operations platform that lets you manage blog writer briefs, assignments, and feedback in one place. And once that blog is approved, you can one-click publish it to your CMS, like WordPress or Webflow, and manage content promotion across dozens of channels, from social media to employee advocacy.
2. Postaga
For digital PR research and pitching
You can use Postaga for client-getting cold email campaigns, but it's top use cases are more on the digital PR side. My personal favorite way to use it is podcast pitching. I haven't found anything that is quicker for pitching mid-tier and popular podcasts.
3. LinkedIn Sales Navigator
For contact research
At early stages in my career, Sales Navigator was essential for finding contacts for cold email pitching. Now, I have more clients than I need, so while I help new freelancers get results with cold email, I don't have to do it myself anymore. However, it's still useful for searching B2B contacts for writing, such as when interviewing people for an ebook.
Learn more about LinkedIn Sales Nagivagtor.
4. Hunter
For email address finding
ContactOut and Clearbit are great email finding tools too, but the one I turn to again and again is Hunter. The data is pretty accurate, there's a bounce checker, and the subscription plans are generous.
Cold email is a super effective way to get clients. Find the right people in LinkedIn, then reach out with these templates: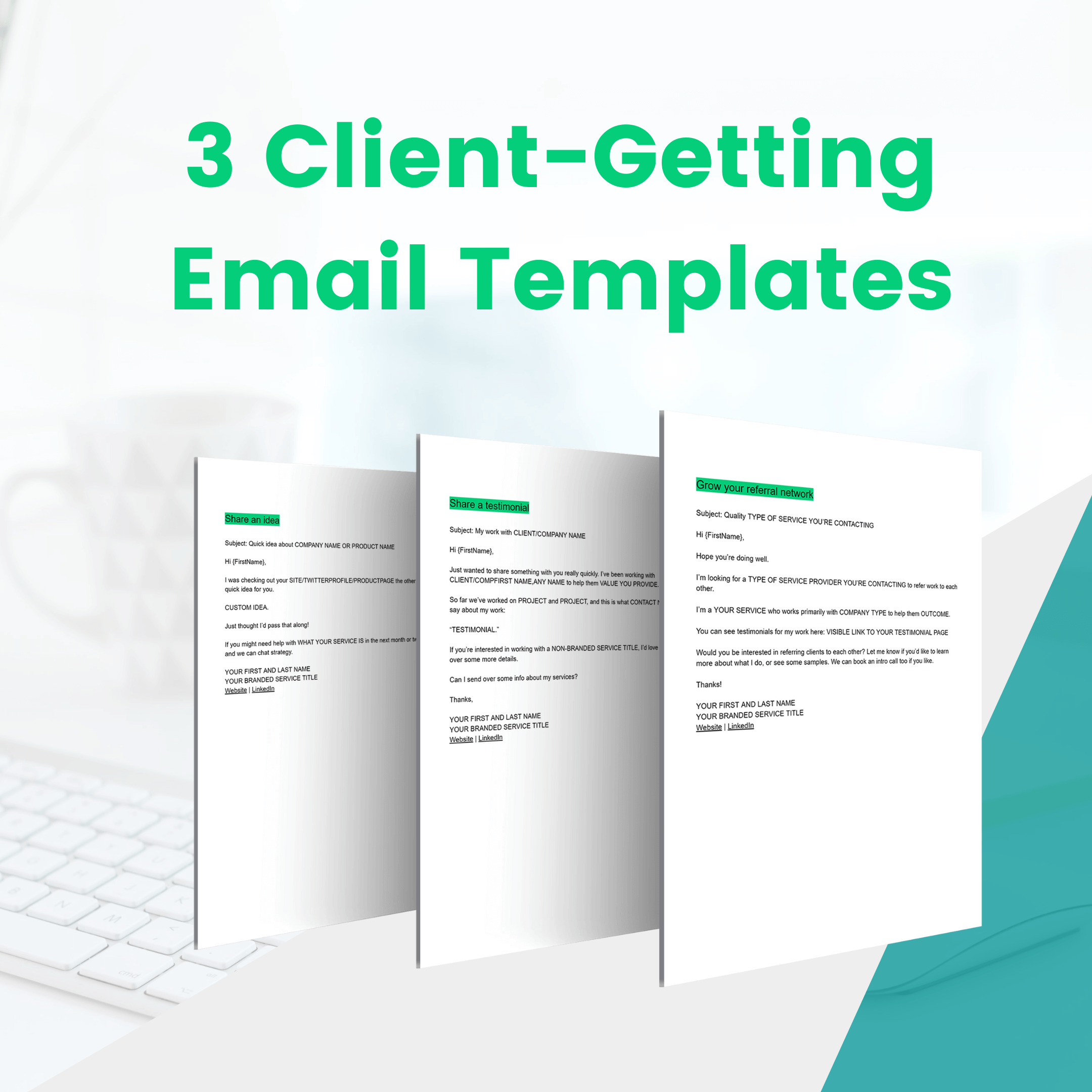 5. Adobestock
For stock photos
For my own content and client content, I occassionally need to use stock photos. I do my best to hunt for ones that aren't too stocky. With Adobestock, the quality is pretty good and the 10/photo per month subscription is perfect for me.
6. Ahrefs
For SEO research and tracking
I work SEO into many content and copywriting projects. For copywriting projects, I discover what a website is ranking for (or almost ranking for) and make sure to retain and improve those rankings. I also add new target keyphrases. And for blog content, I find the perfect keyphrase for each post, and also provide holistic SEO strategy.
7. Frase
For secondary keyphrase research and SERP intelligence
When it's time to write a new piece of content, whether for one of my 3 websites or for one of my clients, I always check the chosen target keyphrase in Frase. This tool will give me suggested secondary keyphrases to include and it will also show me all of the H2s and H3s of the top 10 blog posts, so I know what to cover in my content.
Need B2B clients? Check out my $27, steal-of-a-deal cold email course (complete with dozens of templates, exact places online to find great clients for list-building, and of course email finding tricks).
Course sales SaaS apps
Want to sell courses without raising your annual expenses by $1000 – $2000? You will love my course creator tech stack. Goodye ClickFunnels, and hello one-time payments.
8. Thrivecart
For checkouts
I used to use ClickFunnels. But then I got tired of paying a hundred bucks a month for it every month. I also noticed that a lot of ClickFunnels influencers curate uninclusive, all-white spaces. So I switched. Thrivecart is a one-time fee, and you can use it for checkouts for digital products and productized services.
9. MemberVault
Making courses is really fun. I enjoy coming up with the course outlines and filming the videos. MemberVault is an easy-to-use alternative to Teachable, and I like that it has a lifetime plan.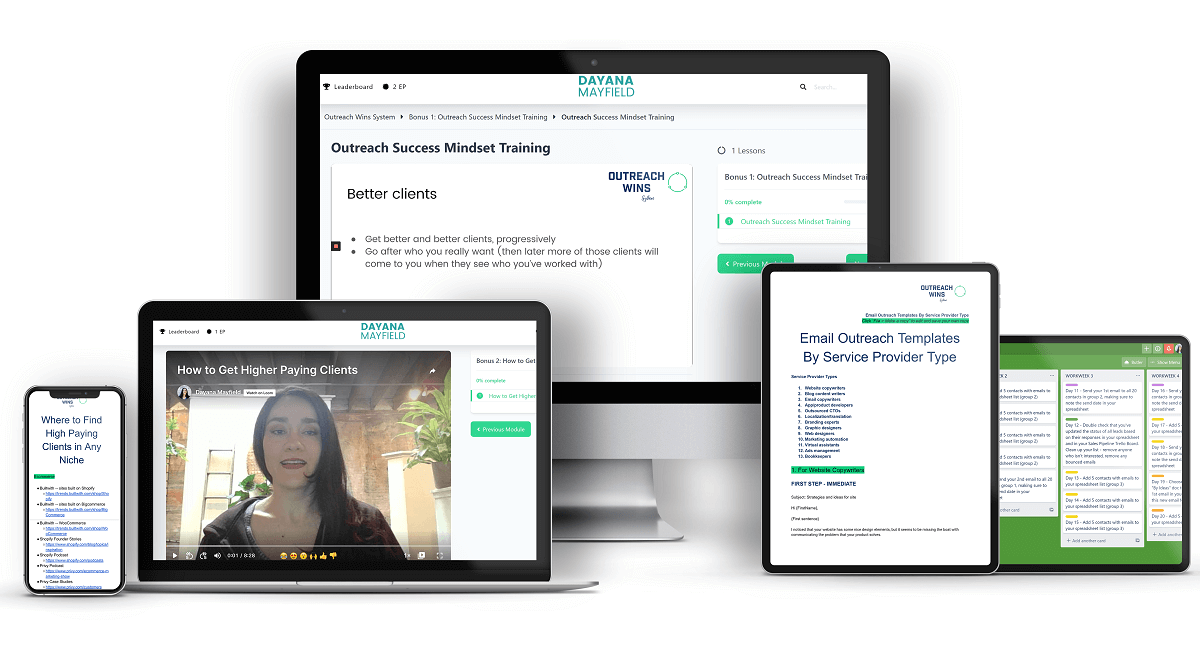 I host my $27 cold email course inside of MemberVault.  Check out the course. 
10. ActiveCampaign
For transactional emails and email marketing
I use ActiveCampaign for my course login delivery emails, as well as for my email newsletter. It's a very robust tool, and I'm happy to have a marketing automator who manages it for me. If it weren't for her, I would probably have to use ConvertKit, which is simpler (so says the internet).
Learn more about ActiveCampaign.
11. Divi
For course landing pages and websites
All 3 of my websites are built on Divi. This is a great WordPress builder that is loved by professional website designers and newbies alike. It offers drag and drop functionality of course.
Productivity SaaS apps
Time to focus. These are the productivity tools I actually use, and yes…pay for.
12. FocusMe
For social media blocking
The coolest thing about FocusMe is all of the different levels you can set for your social media blockers and website blockers. For example, I have one blocker that is password-protected, so I can enter the password if I need to get into Facebook and check a DM. Then I have one that will not let me into social media no matter what I do. When I'm ready to write any client work, I set that for 30-60 minutes and put my phone in another room.
13. Endel
For weird, productivity inducing music
Called "soundscapes," Endel has endless options to choose from to create music loops. It will automatically play music based on the time of day. Right now it's afternoon, so Endel is treating me to the "Afternoon Energy Peak" to uplift my mood. Hey, it's working. I'm writing this blog even though technically I don't have to.
Small business management SaaS apps
From the kind of cool to the really boring, these are the SaaS platforms I use to manage the details of running an online business like an absolute champ.
14. ClickUp
For project management and actionable spreadsheets
I'm very glad my web designer and email marketing person forced me to switch to ClickUp. She literally did force me. She moved all of my stuff over from Trello without my permission. Why am I glad? Because ClickUp data can switch from board view to list view, meaning you can turn a spreadsheet row into a task with various contingent tasks. Brilliant.
15. Quickbooks
For bookkeeping
Hooray for not doing your own bookkeeping! I only login to this app to check my Profit & Loss reports and give the required reports to my tax preparer at the end of the year. When I bought a house in 2020 and refinanced my mortgage for a better rate in 2021, I was so grateful I had Quickbooks, because I could generate all of the documents that the lender requested quickly.
16. Hellosign
For signing contracts
I'm of the view that Hellosign is the best combination of affordability and simple design. DocuSign was not worth the cost for me. Hellosign is absolutely perfect for loading contracts and adding the signature fields in just a few minutes.
17. Google Workspace
For custom domain email addresses and cloud storage
Being the millennial that I am, I went straight for a Google email address when starting my business. Holy moly, I used GoDaddy email at a magazine I worked at years ago and sheesh that was a nightmare. Gmail is the best, and it works beautifully with Google Docs and Google Sheets, which I also use every single day.
Learn more about Google Workspace.
18. Calendly
For scheduling meetings
Calendly is popular for a reason. Great UX. I tried other schedulers, and found them all too complicated for my needs. I use Calendly for scheduling sales calls, check-in calls, customer research calls, case study interviews, and more.
19. Zoom
For online meetings
I like Whereby's features for combatting video fatigue though, so I'm planning on making the switch soon. Just got it get it integrated with Calendly and all that jazz. If and when I do make the switch, I'll let you know what I think.
20. Gusto
For payroll and w2 management
As an s-corp, I pay myself as an employee, and I also give myself the profit from my business. I use Gusto to run my payroll and generate my W2 at the end of every year.
21. Loom
For quick screensharing videos
I love Loom! As a former QA tester, I also love that its inception story comes from stoftware testing. I use it for quick 1-5 minute videos with clients and VAs. I also use it for filming my course videos, because it's so easy and fast to film the videos, then put the embed code in MemberVault. No downloading and uploading required.
What SaaS tools do you use in your small business?
Let's stay connected! Grab my 3 free cold email templates and you'll get fun marketing updates and experiments once a month from me. I don't like a busy inbox, so I don't send too many emails. Makes sense, doesn't it.