SaaS copywriting that clones your best customers
Don't fight what's working

—

double down on it
The majority of your website traffic isn't taking action
Prospects find your company via SEO, social media, networking groups and events, cold email and who knows how. Most of that traffic is bouncing—including the people who are exactly like your existing customers.
Confusing copy DOESN'T CONVERT
We all suffer from being too close to what we do. When you're ramping up marketing activities, proximity gets dangerous. Learn how one of my clients improved the results of their marketing and PR efforts.
Get clear, compelling copy instead
Let's have fun with it!

When you remove all of the gunk from your messaging, you'll find the gem hiding beneath.

It's simple.

Your users use your product to achieve something.
I'll figure out what that is and sprinkle the magic of conversion copy all over it.
What's included in every page of SaaS website copy:
SEO optimization
Don't believe the hype. SEO is not complicated. The problem is that most business just don't do it. I help select the right keyphrases, implement them on page and in the meta data.
Conversion optimization
Even without digging into data, I can spot conversion gaps in your site messaging and layout. Got some data? Great! We'll be able to see which well-trafficked pages need a conversion uplift.
---
---
Positive brand messaging
I care about your users. Somewhere in the value of your product, there's a revolution, a transformation or a shift. I'll help you uplevel your messaging in a way that excites prospects and engages loyal customers.
Emotional triggers
No weird scarcity tactics here! I take real stories and real scenarios that matter to your b2b buyer and tell them in a way that gets prospects to take action and make a decision.
Pro SaaS copywriting with an eye on CRO
Get versions to test as an optional service add-oN
I'm a copywriter, not a conversion optimization agency, so I don't provide CRO services. However, I do provide ongoing copy for you to test. I've attended conference workshops and courses to help me master the framework behind strategic testing.

What does this mean for you?

I know how to test for BIG conversion jumps, not silly tweaks. The A/B versions I provide will prove or disprove hypotheses about your customers and what they react to. If you're ready to optimize your website on an ongoing basis, let's discuss what types of test are a fit for your company.
No need for testing at this stage?
No problem. Because I'm an experienced copywriter and tester, I can usually spot what needs to change on your site. If I can't tell with certainty that I can make big improvements, then I won't suggest that you revise your copy until you're ready to take on CRO.
Ready-to-DESIGN copy
Take a peek at my process. Copy with layout = done!
Strategy Call
From website architecture to nailing down your buyers versus your users, we'll lock down the strategy of your site.
Research
Customer surveys aren't optional. I'll give you the text to load into Typeform or your favorite survey tool. Meanwhile, I'll scope out the competition.
Drafts
The "first draft" that you see is my second or third draft. It tells you the psychological purpose of each section, while presenting the layout and design concepts clearly.
Review
Together with stakeholders on your team, we'll make sure that no important brand messages are missing. Once it's in design, I'll take another look to make sure that the design interprets the meaning of the copy.
As a VP of marketing, I consider myself hard to satisfy. The vast majority of copywriters I worked with along the years, were able write nice words but usually missed the point and weren't able to capture the essence. Dayana is an exception. She's much more than a copywriter. She gets it. She is good at researching and understanding what we want to say, she has a good eye for design and she produces content that really makes an impact. I guess that's one of the biggest compliments a marketing writer could get.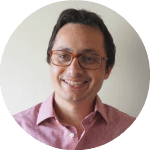 Gideon Pridor
TravelPerk
Learn how I helped increase conversions