COLD EMAIL IS SEXY AF. WHY? BECAUSE
MONEY IS SEXY.
So that trumps any issues you have with
cold email.
Grow your online service business and STOP waiting
around for referrals.
Like most online service providers and freelancers, you understand the importance of marketing your business consistently.
But the problem is…you don't know WHAT you should be doing consistently. So, you keep applying for low-paying projects and waiting for referrals.
I'VE FOUND THE FORMULA FOR A BETTER WAY.
Email outreach. Cold email. Email prospecting. CALL IT WHATEVER YOU WANT, IT WORKS.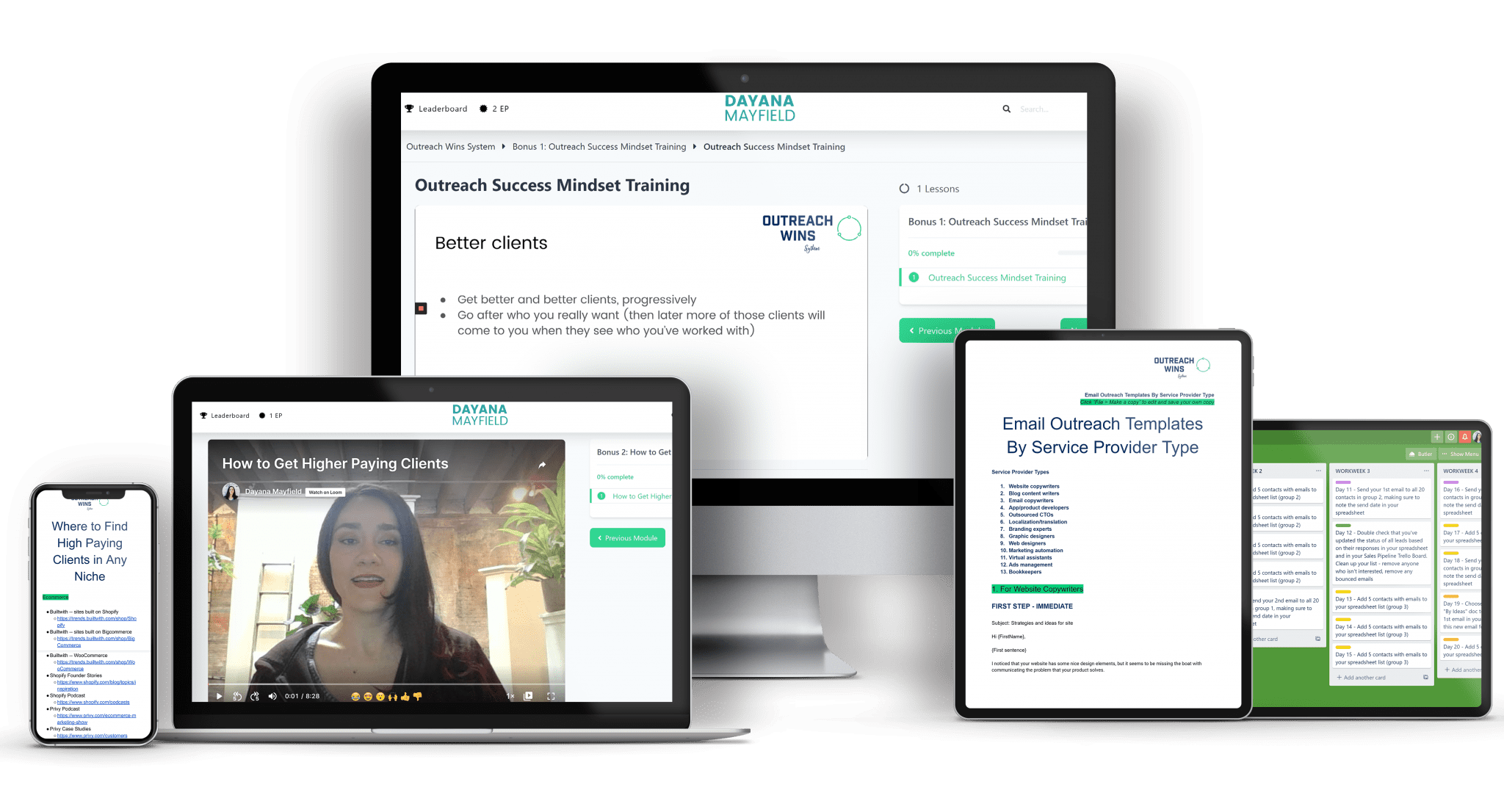 I'm offering you instant access to my email outreach templates, client finding secrets, and FIVE new bonuses, including Recession Proof Prospecting.
LET'S REWIRE YOUR ONLINE SERVICE BUSINESS, OKAY?
You'll be so glad you did.
STOP relying on referrals
STOP spending hours on Upwork applications that get you nowhere in the long run
STOP wondering where your next client is coming from, and WHEN
STOP feeling the pressure to turn into a content creator or influencer just to run a 6-figure business #notnecessary
Confidently identify the best clients for your business
Instantly find email addresses and know exactly what to say
Look professional and proactive in your outreach email
Get the leads you need right now with just 2 hours of strategic effort each week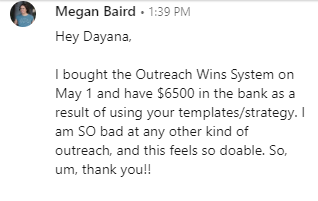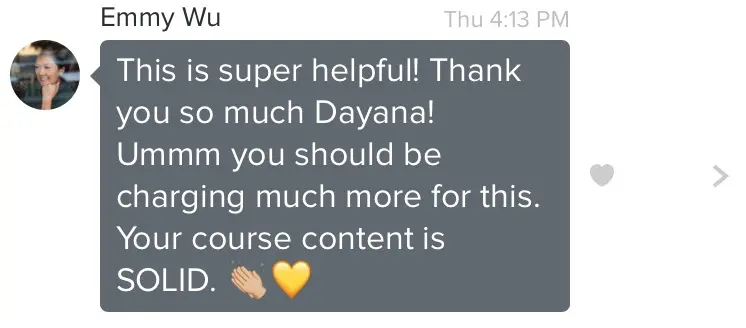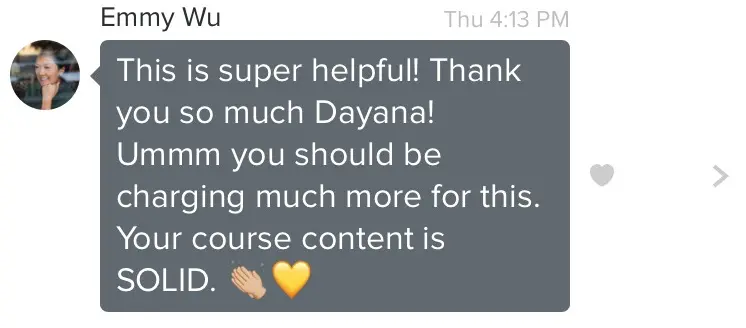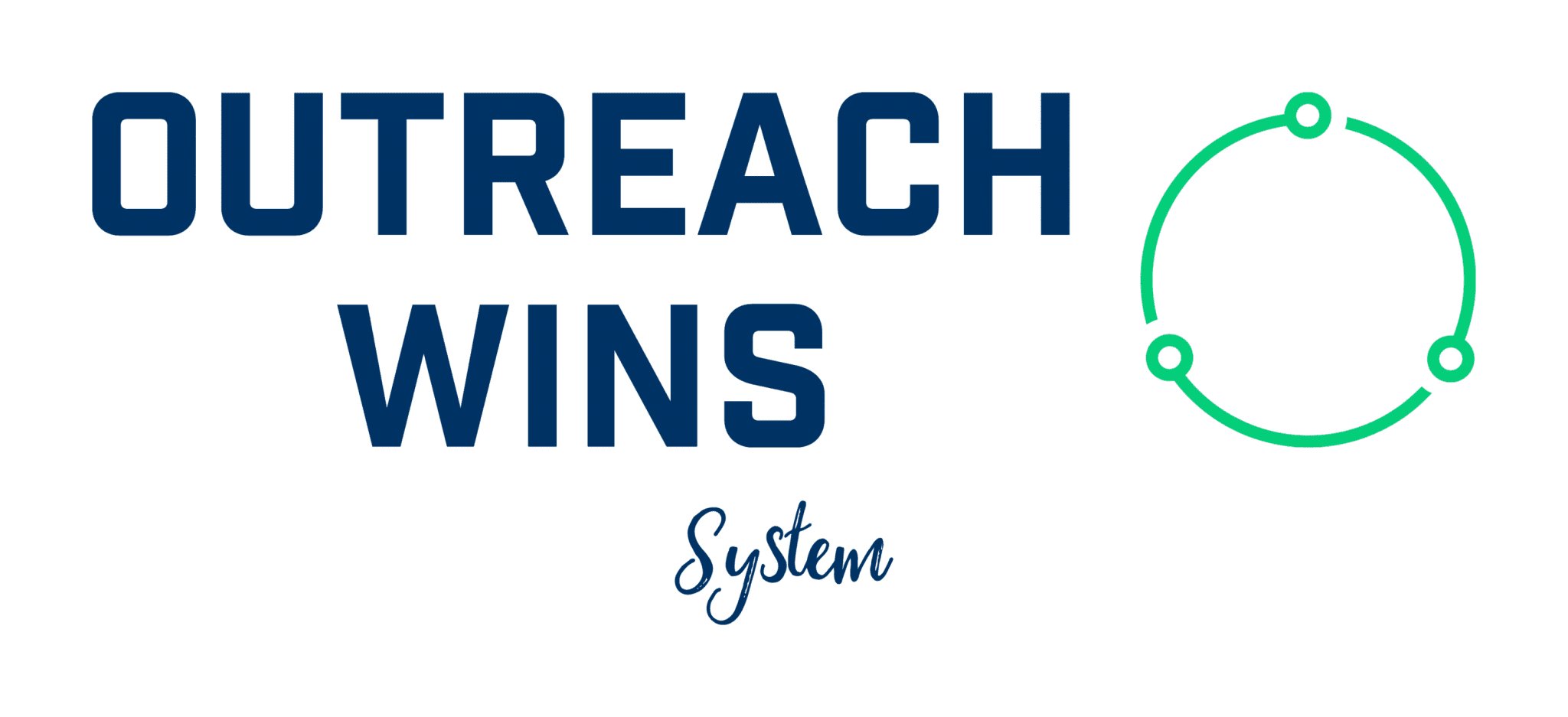 THE MOST PREDICTABLE WAY TO GROW YOUR ONLINE SERVICES BIZ. THE PROS ALL DO IT, BUT NOT LIKE THIS…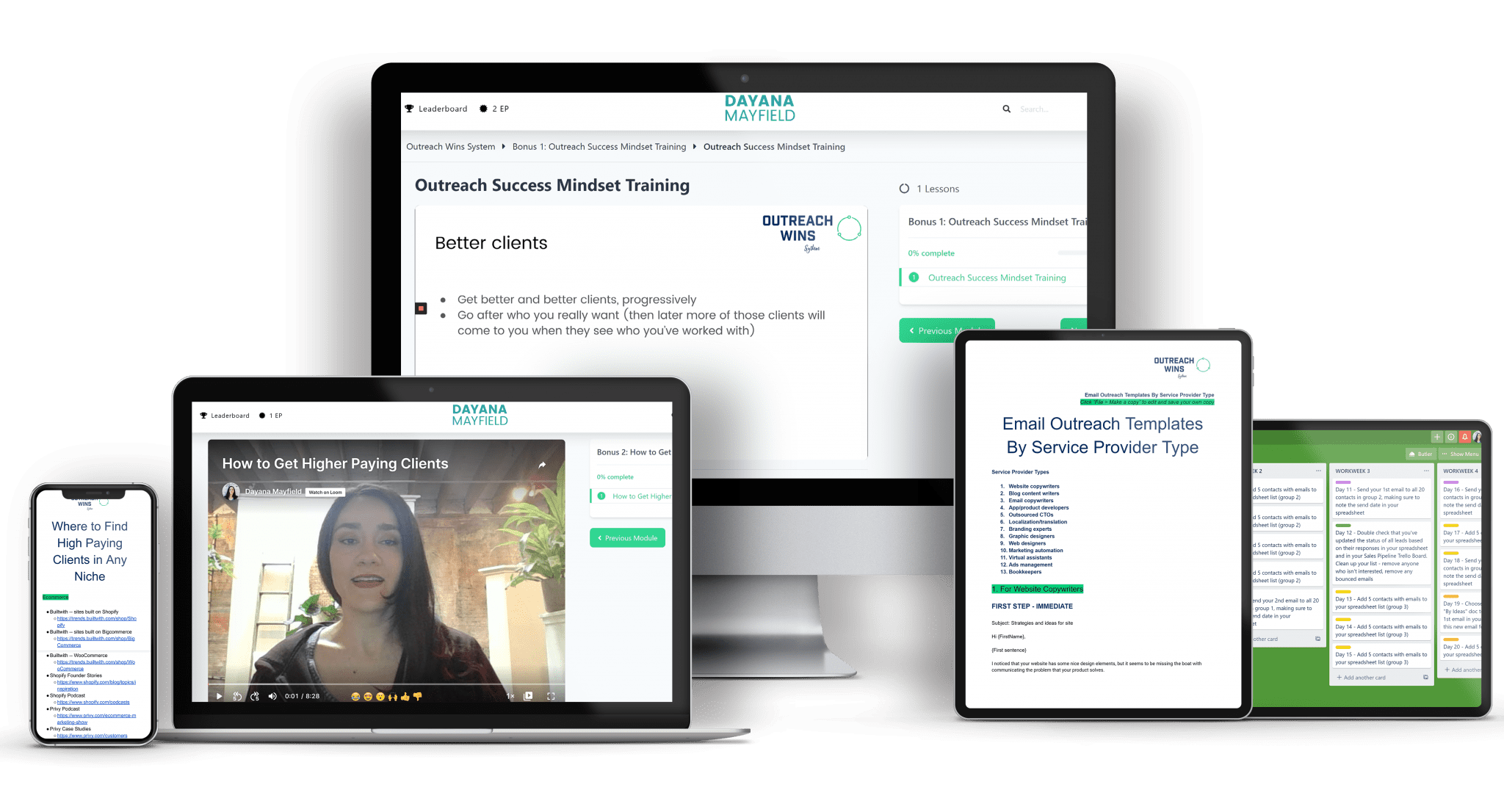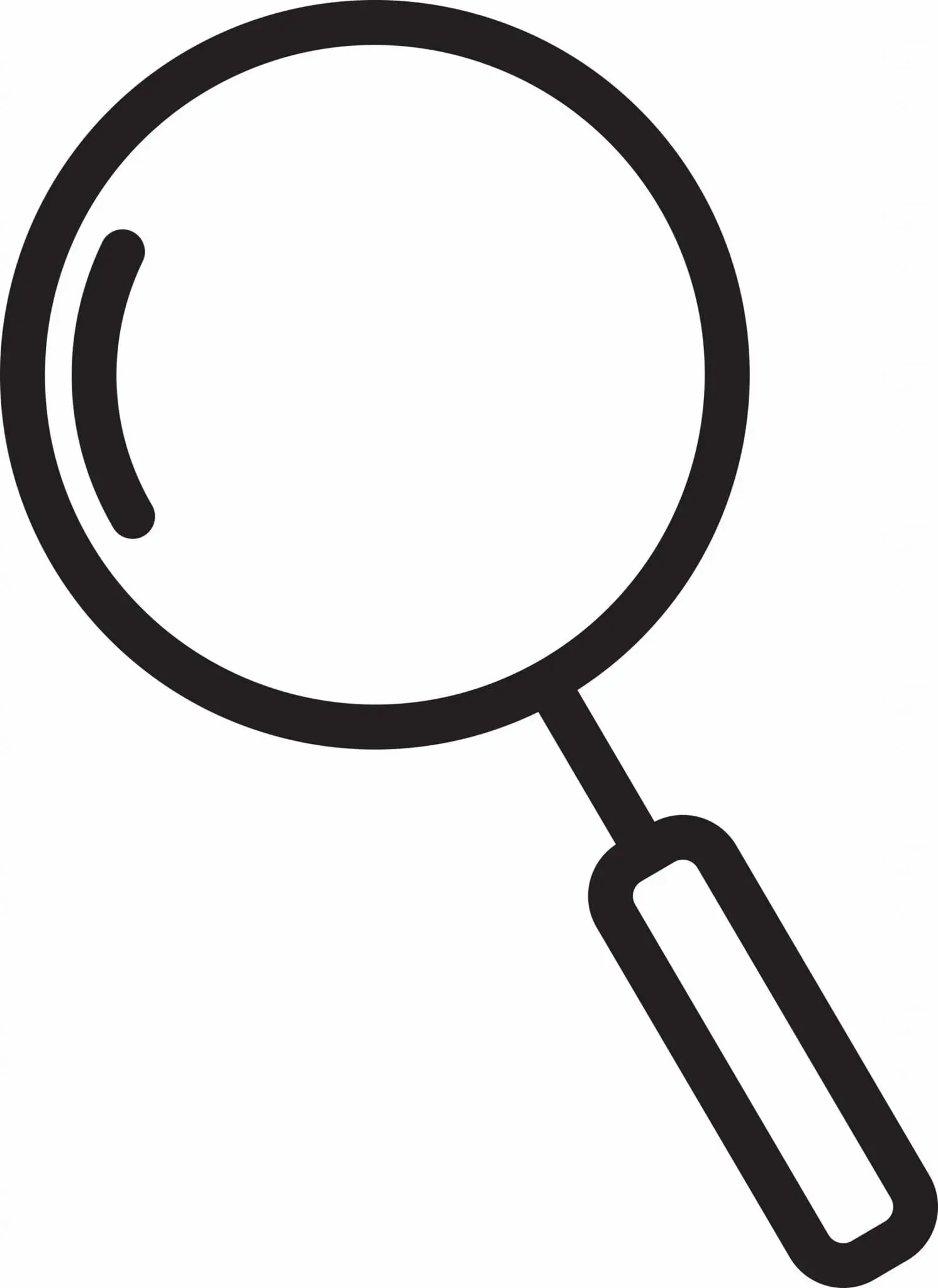 FIND AMAZING CLIENTS IN SECONDS
✔ Pre-built resource lists with the best clients in ANY niche plus FREE email finding tools
SEND OUTREACH EMAILS IN MINUTES
✔ Dozens of templates to make this process lightning fast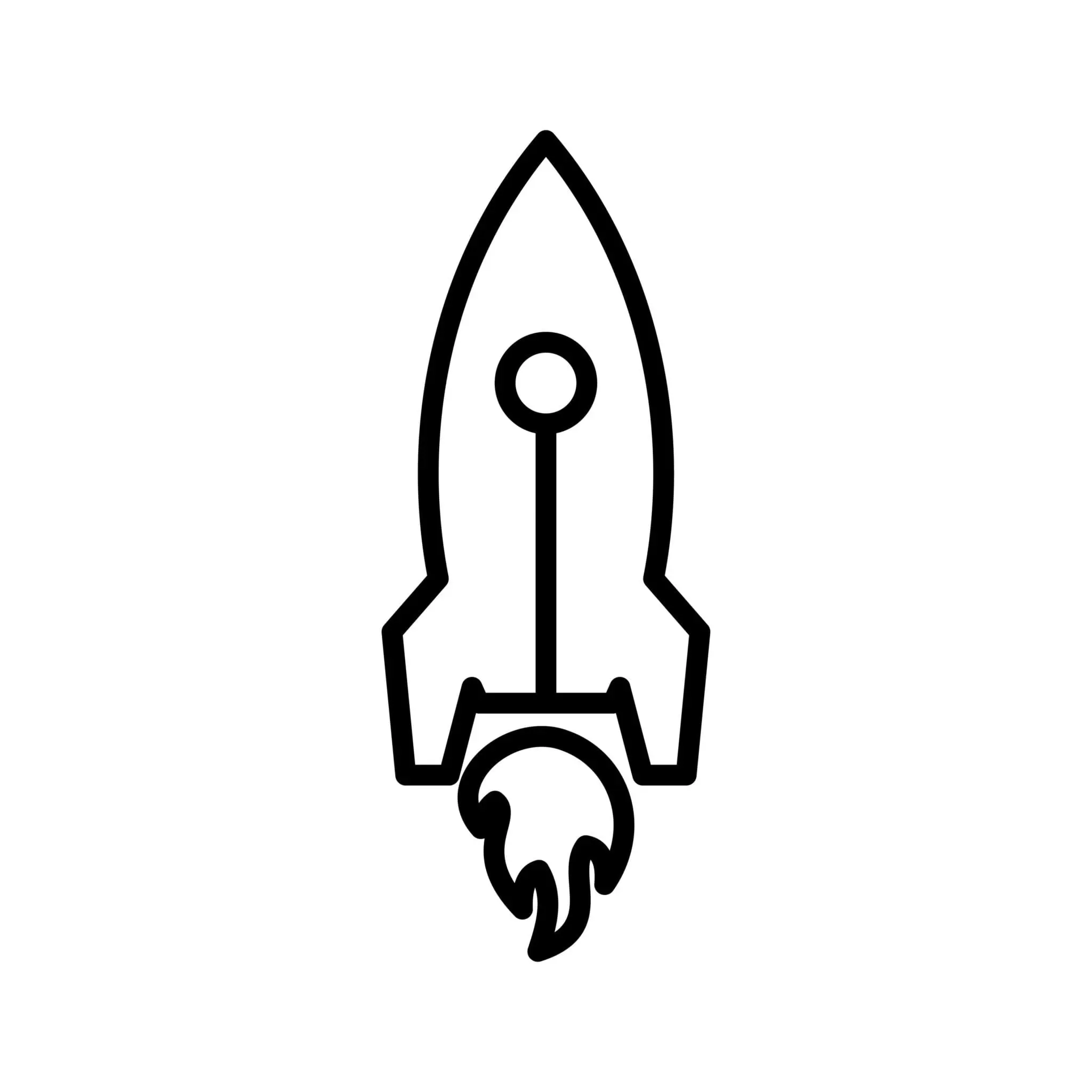 GO FOR CLIENTS WITH BIGGER BUDGETS
✔ Learn how to target entrepreneurs and managers with bigger budgets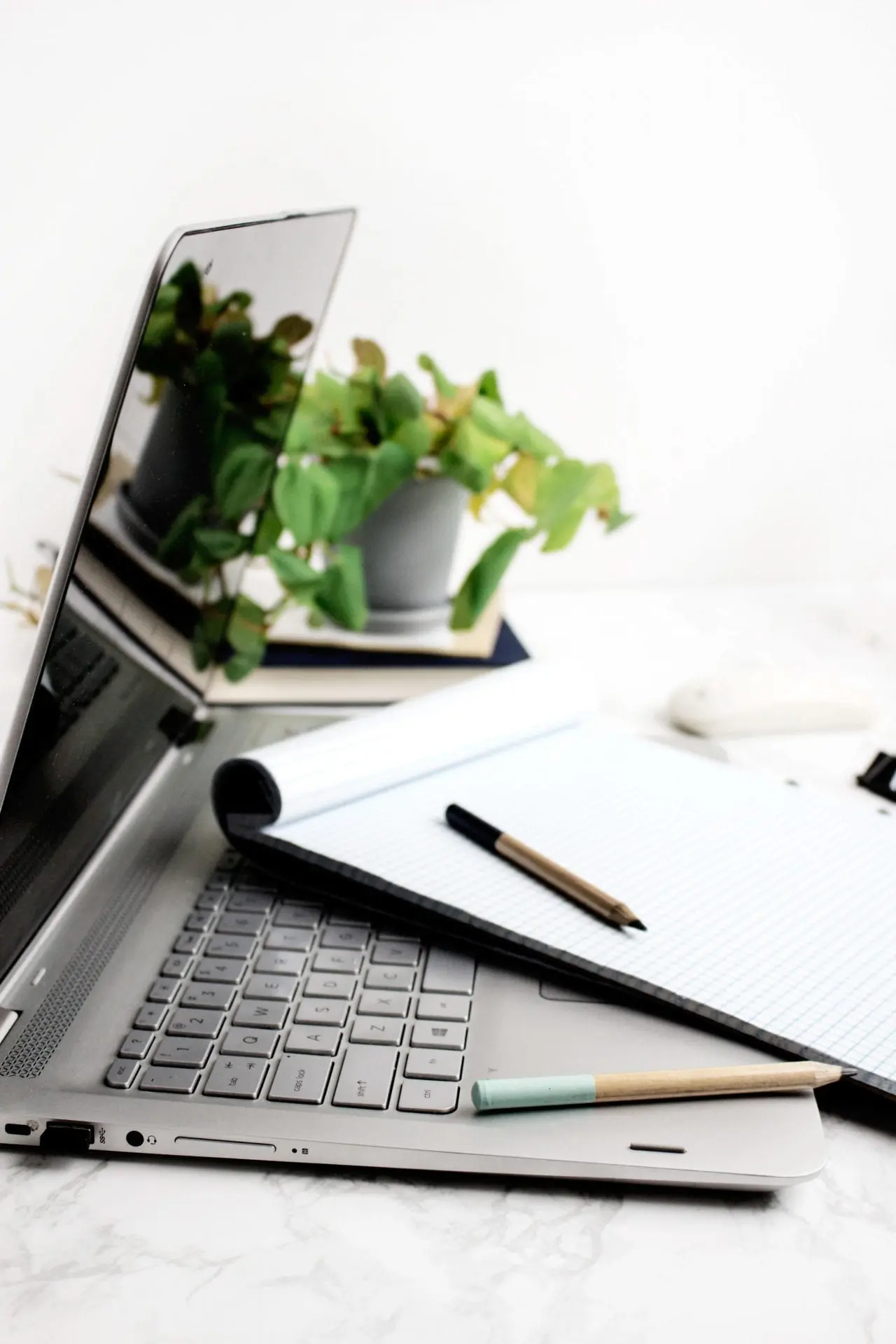 How would your online business be different if you could…
Work with clients who pay

PROFESSIONAL RATES

SAY NO

to the bottom-feeders and low-ballers because you have more leads and sales calls already lined up
SAY NO

Have CONSISTENT INCOME

and know that no matter what, you know how to get great clients whenever you need more
Leverage your growing experience and work with

BETTER PAYING

clients over time
Business Insider covered my client-getting emails! 🙌

Dayan's OWS course had many life hacks that help me find great clients in unexpected
ways. I think just the templates alone are worth double the price she charges
for the entire course.
This course is awesome as hell. This is the best training I've seen anywhere on cold outreach. "Where to Find High Paying Clients in Any Niche" is worth the price of admission all on its own. I cannot even begin to fathom the amount of work it must have taken to put this together.
WHERE TO FIND HIGH PAYING CLIENTS IN ANY NICHE
Smarter prospecting is all about knowing where to look. The best clients aren't in gig sites. They can be found in conferences, podcasts, news sites, case studies, guest blogs, and membership organizations.
Successful entrepreneurs and executives DON'T HAVE TIME to make a job posting on Upwork or search through dozens of options. THEY ARE RELIEVED when you email them and offer your help.
Life & Spirituality Coaches
Consultants & Service Providers
Course Creators & Bloggers
Medical & Wellness Clients
Construction & Property Services
Each resource sheet comes with 15+ UNIQUE, HIGHLY SPECIFIC PLACES to find new clients. Don't have a niche? Pick from multiple lists!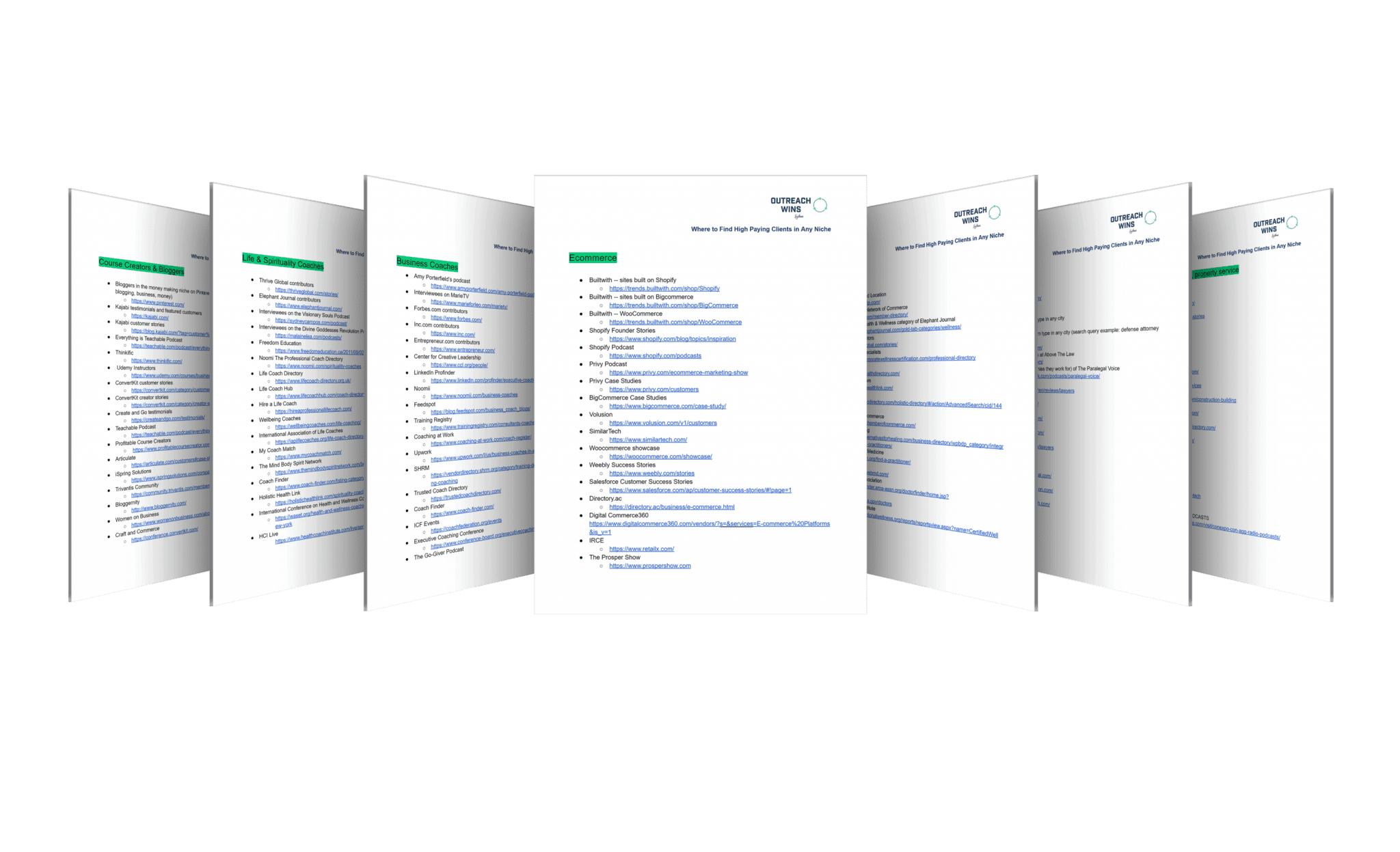 Why deal with bottom-feeders when you know where the successful entrepreneurs and executives hang out?
EMAIL TEMPLATES THAT CONVERT PROSPECTS INTO CLIENTS
Ready-to-go, easy-to-customize templates that WORK! These templates have landed me high-paying projects with small business owners and billion-dollar brands alike.
14 Email Sequences for Different Service Providers
Localization/ translation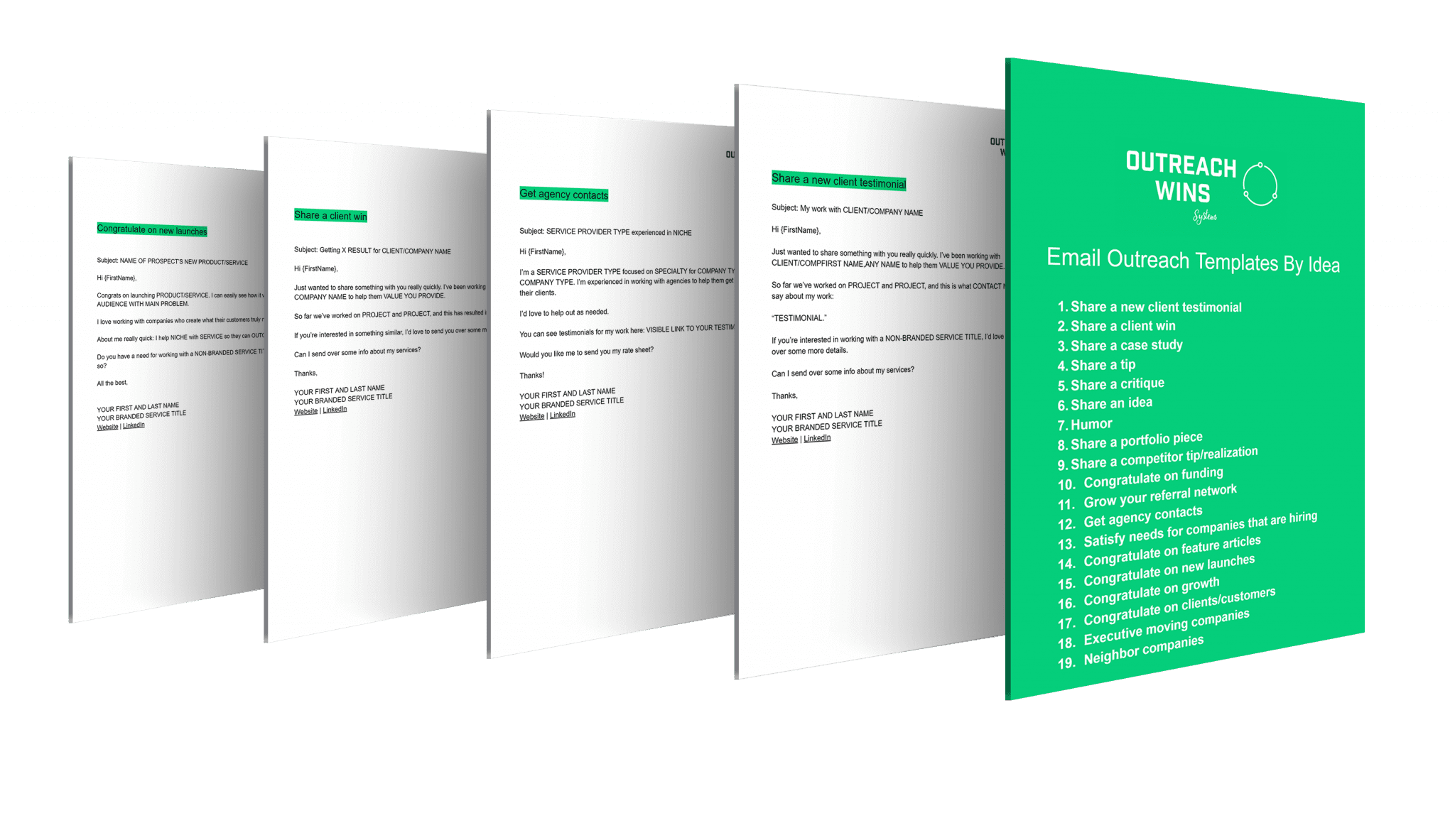 4 Emails in Each Service Provider Sequence
In each sequence customized for the service provider types, there are four emails so you can follow up with your best leads.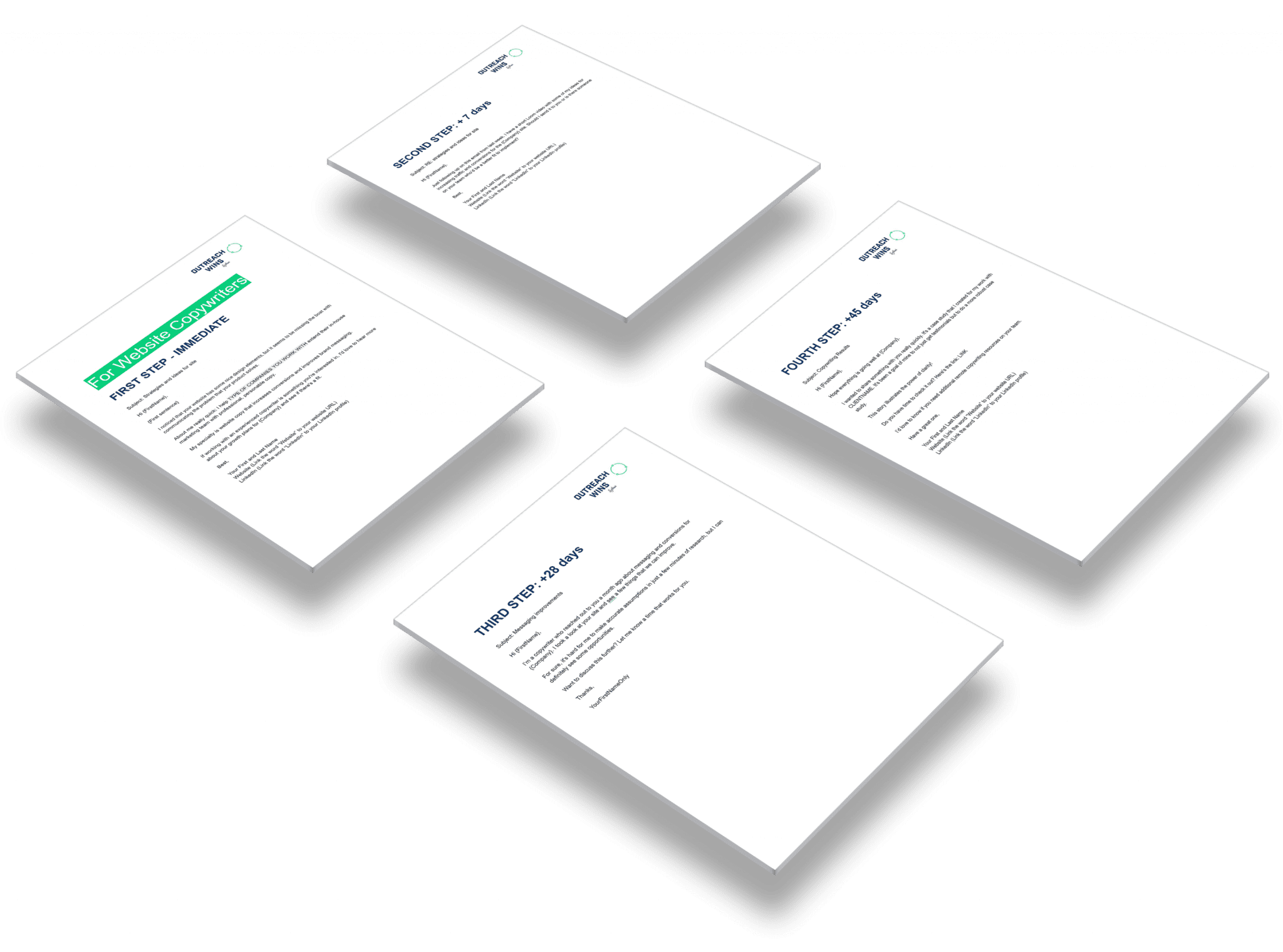 PLUS 19 Email Templates That Work for Any Service Provider!
Get 19 additional email templates to help you maximize any opportunity. Learn how to contact a prospect who's just launched a new product, received funding, or gotten press coverage.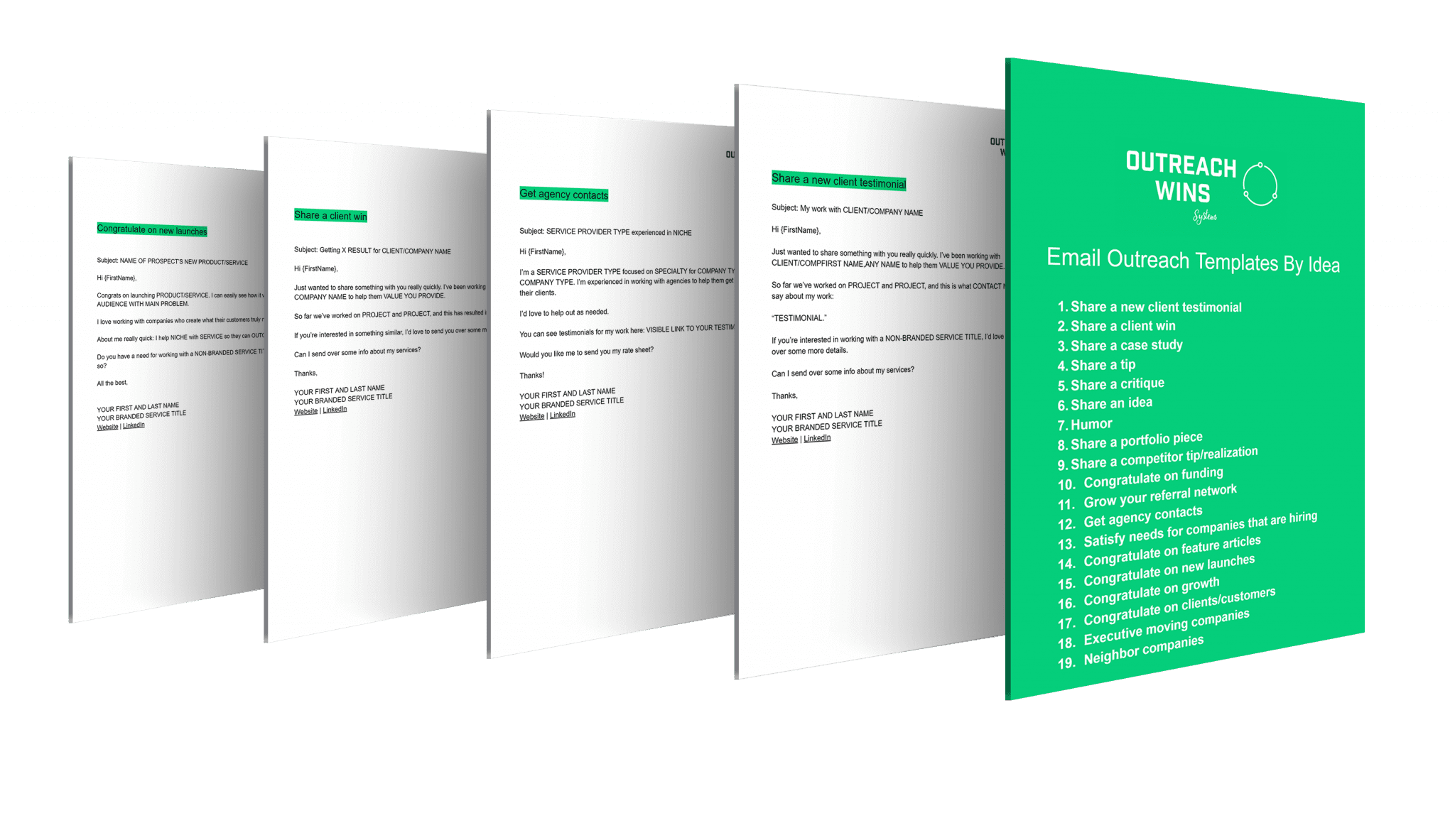 FIND ANY EMAIL ADDRESS FAST
NOT SURE HOW TO REACH THE RIGHT PERSON?
Get the tools, tricks, and training you need!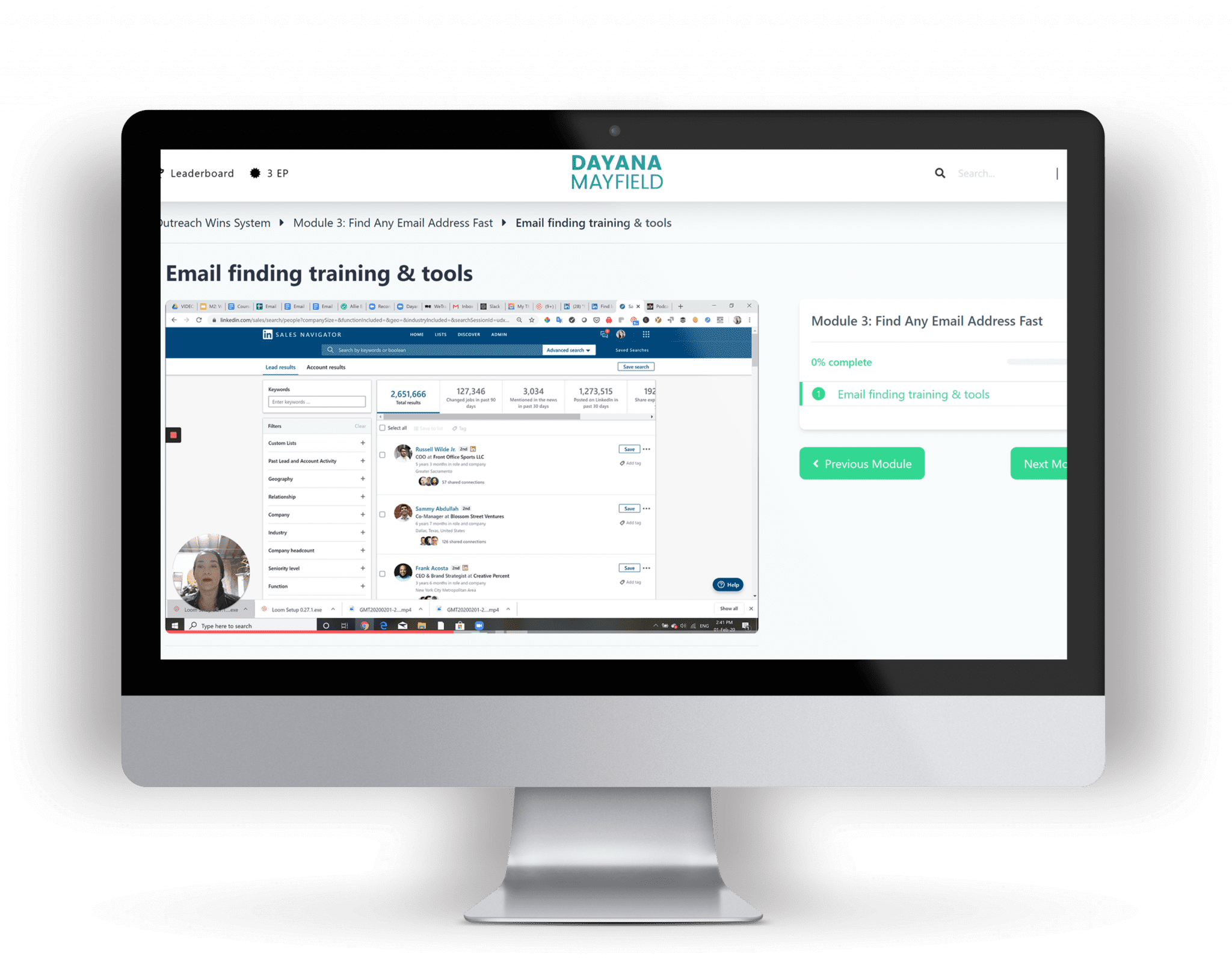 Email finding video training
My favorite 5 FREE tools to find any email address instantly!
LinkedIn hacks to find the right entrepreneurs, executives, and managers to contact
"But I don't like doing cold outreach."
That's because you're doing it wrong.
The Outreach Wins System teaches you how to reach out to the entrepreneurs, executives, and managers who NEED your help.
My emails are so good, the most frequent response is "Thank you for reaching out."
Why not work with the businesses who NEED and can AFFORD what you do?
The Outreach Wins System will give you
the tools and the confidence to approach business owners and managers that are the exact right fit for your business. These outreach emails prioritize quality over quantity, always!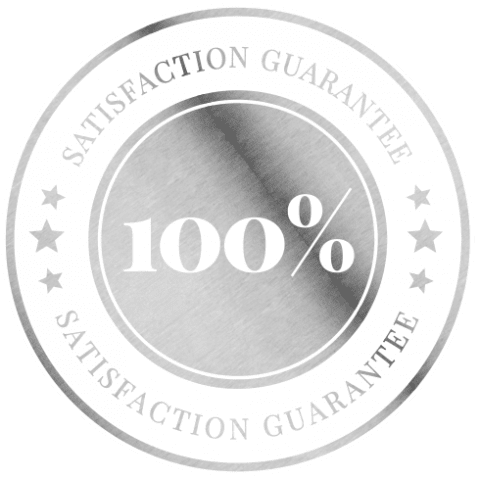 There's always a bit of uncertainty about purchasing a digital product. I've been there.
But I wouldn't be where I am today if I hadn't invested in the right digital courses at the right time.
If you are not satisfied with your purchase, you're entitled to a full refund. I will refund your money within 30 days of purchase. No questions asked!
The Outreach Wins System now comes with 5 NEW bonuses!
OUTREACH SUCCESS
MINDSET TRAINING
The mindset and approach you need to have to win with outreach so you come across as PROFESSIONAL AND PROACTIVE, not needy.
HOW TO WORK WITH MORE PROFITABLE COMPANIES
How to gain the confidence to work with companies with bigger budgets, and how to spot these opportunities.
TWO-MONTH DAILY TASK CHECKLIST
A 2-month calendar with what to do every day of the week so stay in track in just 10 – 20 minutes each day!
LEAD PIPELINE TO TRACK SUCCESSES
How to keep track of all your leads at any stage of interest and any stage of the buying cycle.
RECESSION PROOF PROSPECTING
An in-depth video training with examples of companies that do well in recessions and how to strategically find the companies that are hiring online service providers in any economic down turn.
👈That's right, I've totally got your back!
I went from being a stay-at-home mom to a sole provider in just one month so that my husband could go back to school.
That was in April of 2016. Since then, I've earned a consistent six figures in revenue, and last year, I made six figures in profit! Heck, I even made six figures after taxes. And that all from online service provider work.
The best part is, I work just 35 hours per week (including everything I do in my business, not just the client work).
I talk to other service providers who are struggling, and they're all either relying on referrals or stuck on gig sites. They don't have a repeatable system to get clients. And they don't know how to get high quality clients that pay professional rates.
The Outreach Wins System is the EXACT system that my assistant and I use together to get the clients I want to work with in my business.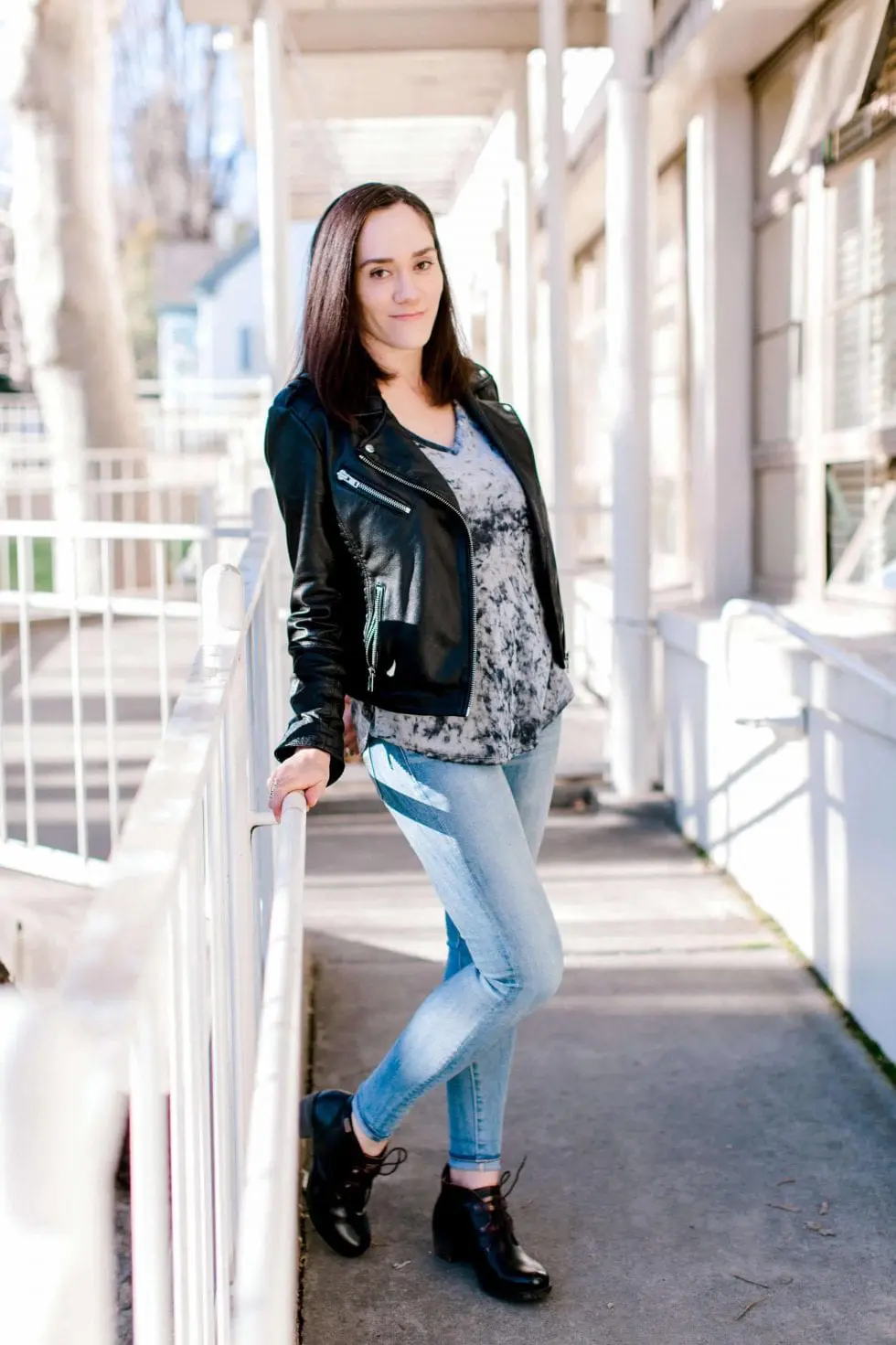 Within one hour of implementing Dayana's cold emails, after sending the start of the sequence to 50 prospects, I had already booked a demo. We get some of our smaller customers from SEO, but the majority of our big accounts come from Dayana's cold emails..
Dayana writes stunning copy. I've worked with many writers over the years, usually grinding through many tedious iterations to get something "usable." Dayana, unlike any writer I've worked with, really took the time to understand what we do, she then spoke to our customers to find out why it's useful. The result is a website that beautifully communicates our value to customers. And I'm a little prouder about what we do when it's communicated so well.
I consider Dayana my 'secret weapon,' and turn to her when I need creative consumer-facing copy. She really thinks like our consumers, yet has a strong understanding of the dynamics behind the messaging and content. This enables her to give us great copy, and additional benefits such as SEO tactics, content planning and more added value.
This is the process that got me off Upwork.
This is the process that allows me to support a family of 4 in Northern California
working just 35 hours per week.
This is the process that has given me consistent leads to create a 6-figure service business.
This is the exact process my VA and I use.
Automating and outsourcing this work is what gave me the ability to explore more inbound marketing opportunities (like webinars, SEO, blogging, social media) because I knew I already had leads coming in while I was experimenting with something new.
This is the process that allows me to afford other investments in my business. I don't do my own bookkeeping or my own taxes! And I invest in courses and coaching when I know it's right.
This is exactly what I tell my friends, family, and neighbors to do when they ask me how to get clients consistently for their own online services businesses.
If my daughters were older and wanted to grow an online business, this is what I would tell them to do. In fact, I'd wager that in high school and college, my daughters will be online service providers instead of having to work retail like I did!
I always overdeliver (ask anyone).
Reach Out to the Best Prospects in Your Niche in a Way That Makes You Look Professional and Proactive. Get the Clients You Really Want to Work With.
As a VP of marketing, I consider myself hard to satisfy. The vast majority of copywriters I worked with along the years, were able write nice words but usually missed the point and weren't able to capture the essence. Dayana is an exception. She's much more than a copywriter. SHE GETS IT. She is good at researching and understanding what we want to say, she has a good eye for design and she produces content that really makes an impact. I guess that's one of the biggest compliments a marketing writer could get.
Dayana is a badass killer copywriter . We found her exactly when we needed her. We knew what customers loved about our beta product, and she communicated it for us.
At times, I've had to stop implementing the strategy because I couldn't keep up with leads.
Frequently Asked Questions
WHAT WILL I LEARN?
You will learn how to do email outreach and LinkedIn marketing to get the exact clients you want to work with in your service provider business. You'll get all of the training and templates you need to succeed.
WHAT IF I'M JUST GETTING STARTED?
Great! The Outreach Wins System will give you a strategic, systematic way to contact potential clients. No need for yucky gig sites. Plus, you don't have to wait for clients to find you on social media. You can grow your business right away. I had to make an income fast when I started my business, and I used professional, friendly email outreach!
IS THERE A MONEY-BACK GUARANTEE?
Yes. I will refund your order with no questions asked if you request a refund within 30 days of purchase. I'm a small business owner like you, so please don't request a refund if my system has helped you.
WHAT IF I'M AN EXPERIENCED SERVICE PROVIDER?
That's awesome too! The Outreach Wins System has several templates that are written for more experienced service providers who want to leverage their experience to get even more of their ideal clients.
WHAT IF I DON'T HAVE TIME?
The Outreach Wins System was designed to save you time. There are dozens of email templates, specific places to find great clients in any niche, and fast email finding tools. My virtual assistant and I spent TWO YEARS and hundreds of hours developing these methods, and we're handing them over to you.
HOW DID YOU CREATE THIS SYSTEM?
I started doing email outreach in 2015 to get clients. While it worked well, I knew there had to be a way. In 2017, I learned everything I could about LinkedIn marketing, and in 2018, I worked to both automate and outsource these two client-generating activities, and the Outreach Wins System was born.