Dayana is the person you want on your team

She helped us jump start our effort on case studies and highlighting our work for our customers. She "gets" things very quickly, reads in between lines. I have high regards for her intuition and inquisitiveness. She is highly professional and presented herself very well in front of our customers (whom she had to interview). To top all of this, her writing skills are top notch (simple, to the point, clear to read) and her working vision with the graphic designer was excellent. We are extremely pleased with the outcome of the first 2 case studies completed and couple more on the way.
Raj Batchu
Wepa
…eloquent and to the point…

When we worked with Dayana, we could clearly see that writing isn't just a job for her. It's more of a passion. Her sense for details, her aim for perfection and her working style in general made working with her a pleasure. The copy we received was well thoughtout, eloquent and to the point. But it didn't stop there. She even went the extra mile to incorporate all our changes to make the copy exactly how we imagined it to be. We look forward to working with Dayana again in the future.
Andreas Gebert
Emotions
…above and beyond…

Dayana had a deep understanding of what work was needed and performed above and beyond expectations. She helped us to clearly promote the concept of our brand new product to our first customers.
Olha Mozzhakova
Facelet
…detail orientated, proactive, a great communicator…

Dayana was a pleasure to work with. We had a very challenging and unique assignment that she did a fantastic job on. She is exactly what we were looking for: detail orientated, proactive, a great communicator, and genuinely passionate about doing great work. She is also very flexible, understanding, and able to adapt to changing situations. Was a pleasure working with Dayana, and she is at the top of our list for future copywriting engagements.
Dylan Robertson
Saison Information Systems
…understands our space well…

Dayana has done a great job helping us build our content arsenal. We count on her with our blog posts, customer stories as well as web copy. She understands our space well and turns solid content around fast.
Ural Cebeci
…the dynamics behind the messaging…

I consider Dayana my 'secret weapon,' and turn to her when I need creative consumer-facing copy. She really thinks like our consumers, yet has a strong understanding of the dynamics behind the messaging and content. This enables her to give us great copy, and additional benefits such as SEO tactics, content planning and more added value.
Lori LoCascio
Trendspot Inc
…stories that put people emotionally into real situations…

It's clear that Dayana really got the vision for the project. I particularly loved the stories that put people emotionally into real situations to spark their imaginations. As I read further into the copy, I was ticking off boxes in my head thinking to myself, "Is this idea captured? Yes…and what about that other idea? Yes!" I will definitely be contacting Dayana when I need more copywriting done.
Rob Horton
Dayana is an exception. She's much more than a copywriter. She gets it.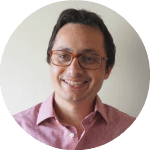 "As a VP of marketing, I consider myself hard to satisfy. The vast majority of copywriters I worked with along the years, were able write nice words but usually missed the point and weren't able to capture the essence. Dayana is an exception. She's much more than a copywriter. She gets it. She is good at researching and understanding what we want to say, she has a good eye for design and she produces content that really makes an impact. I guess that's one of the biggest compliments a marketing writer could get."
Gideon Pridor
TravelPerk