New business alert! I've just launched my new website, Pitch & Profit.
Being a SaaS copywriter has taught me a lot about business strategy and marketing. One of the biggest things I've learned is that entrepreneurs are problem solvers. I absolutely love securing valuable search rankings for myself and my clients, and I've discovered that 95% of businesses playing the SEO game aren't doing enough on the promotion side.
Much as we might hate to admit, Google really cares about backlinks.
In fact, backlinks and quality, optimized content are the top 2 factors when it comes to search rankings.
I've done a lot of work to rank my site for profitable keyphrases. And now I'm teaching others who to do the same.
Here are 7 reasons I'm launching this new business:
1. Most businesses struggle with content promotion
Working with PR assistants has helped me ramp up my visibility and backlinks with very predictable and steady results. Unfortunately, most businesses just aren't considering digital PR and backlink building when they think about content promotion. Instead, they post something on social media and call it done.
2. Digital PR is a big SEO opportunity
Because lack of content promotion is a big problem, there's also a big opportunity. I like the answer is simple. It just takes work. Reach out for backlink swaps. Do guest posts. Secure podcast interviews. None of this is shocking, but it is a lot of work.
Inhouse marketing teams and entrepreneurs can't do this alone. Working with freelancers and virtual assistants is a smart way to go. So, my business will help you train and hire them.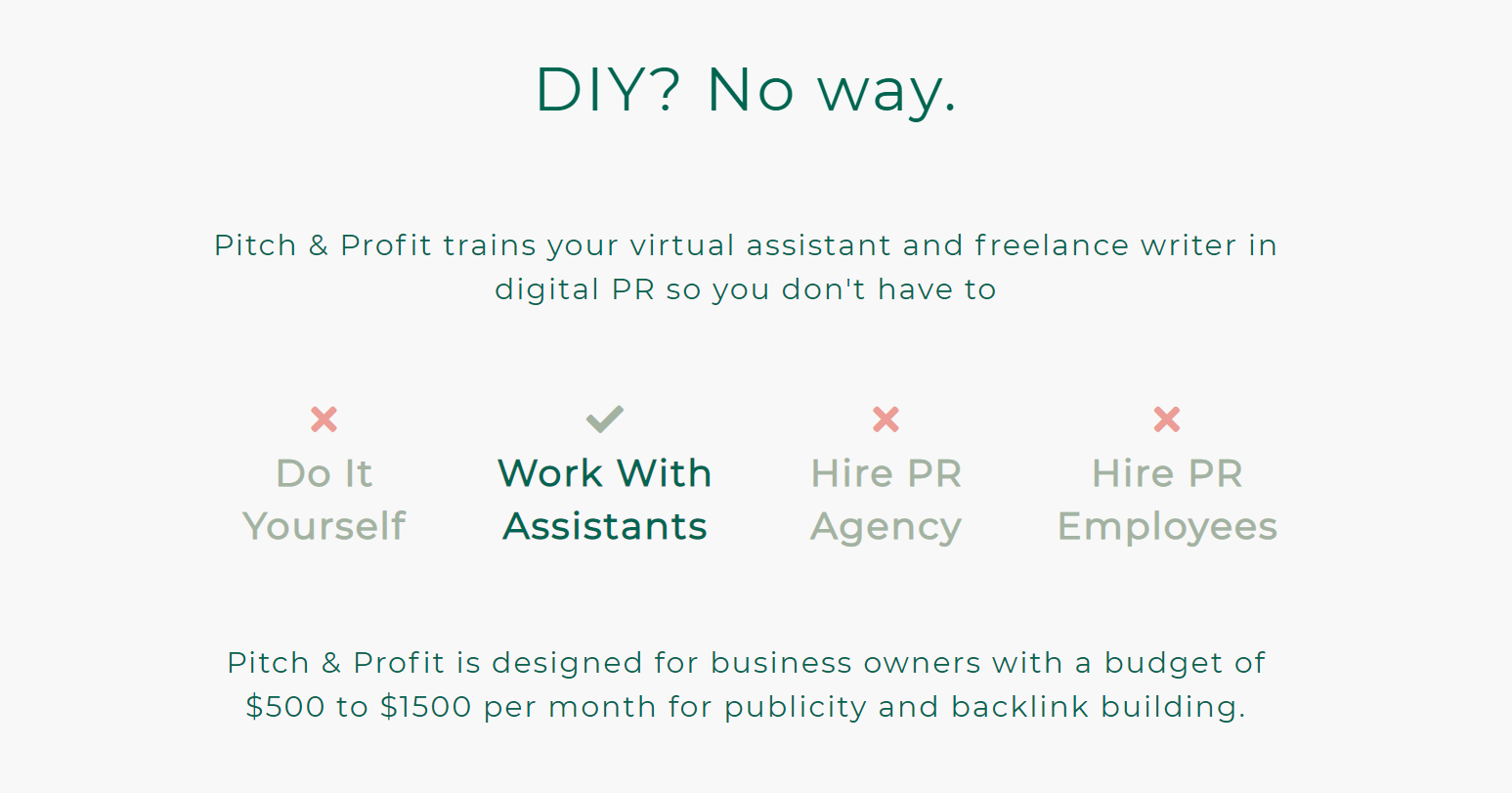 3. I want a horizontal niche
I'm super excited about having a horizontal niche.
Currently I have a vertical (SaaS) plus a horizontal (copywriting, particularly website copywriting and SEO content writing).
For having a service, I truly believe that a vertical and a horizontal combination is the smartest way to go.
But, I felt myself called towards having a horizontal that could cut across all sorts of businesses, sort of like Tarzan Kay with email marketing or Allie Bjerk with self-liquidating offers (what she calls Tiny Offers). The reason I really wanted a horizontal niche is in line with my desire for scalability, which I talk about more below.
4. I love making courses
When making the Outreach Wins System, I discovered that I truly love making courses. It's an insane amount of work (5X whatever you imagine it to be), but it's also fun because it let's me be creative and strategic all at the same time.
The problem was that as soon as I was done making OWS, I realized I wasn't passionate enough about either cold email or teaching people how to freelance. I decided to create another course, and I started thinking about things I was much more passionate about, that also represented a market need.
5. I want something scalable
I love marketing my own business. I could do that all day long. I'm super excited to get to the point where 80% of my time is spent on marketing and publicity for my own company and only 20% on fulfillment.
As a copywriter, I currently live in the reverse situation, except that it's probably more like only 10% of my time goes to marketing my own business.
If I didn't love brand building so much, this wouldn't be an issue. But I genuinely want to keep building and marketing, so it makes sense to do that for something with scalability potential.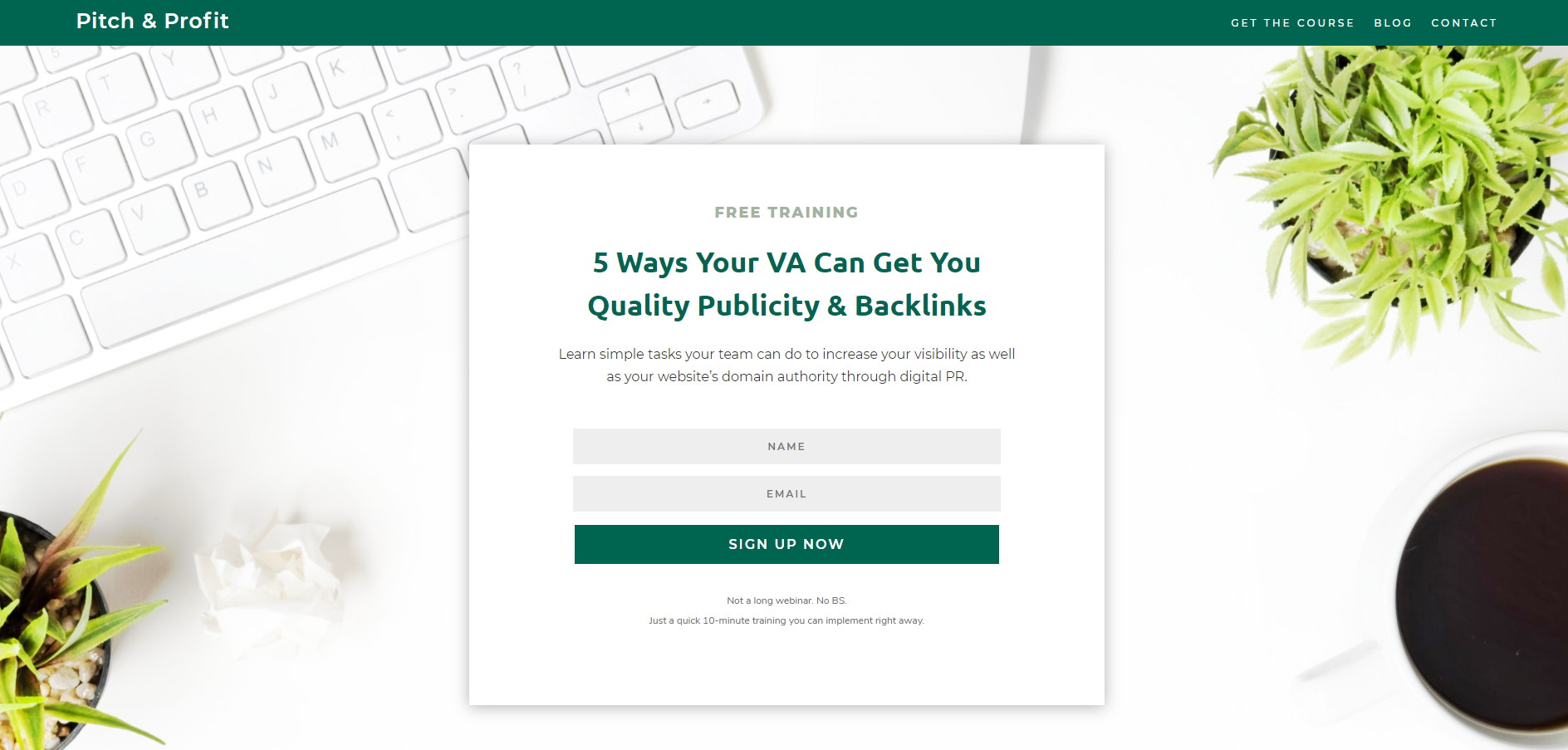 6. I want something bigger than just me
Creating a personal brand is hugely rewarding, and I'll continue to do a lot of marketing from my personal LinkedIn profile, however I'm really excited to have something that's not just me. I already have bloggers who have authored posts on the site, including one about HARO tips for increasing success with that resource.
I'm already outsourcing:
Digital PR work (duh!)
Some blog writing
Freebie creation
I plan to also outsource:
Consulting and team training (I plan to train a team so they can help our clients on a more personal, custom level beyond the initial course)
7. I want something I can sell
When you have a business that's not your name, you can sell it a lot easier. Take it from the experts over at Empire Flippers: personal brands don't sell well.
Having something you could sell is the most amazing thing about being an entrepreneur. You can earn profit in the short term and have something to sell in the long run. Could you sell your job after you leave it? No you could not. Same goes with a personal brand.
That's why I'm doing all of the outsourcing mentioned above sooner than later. I want to be an amplifier for Pitch & Profit, not it's product, so I'm making sure it's not all about me right from the beginning.
This business ticks all the boxes for me, and I can't wait to grow its domain authority, revenue, and brand awareness.
If you want to follow the journey, sign up for the free training and join the course waitlist over at Pitch & Profit.